Implants in Brooklyn, NY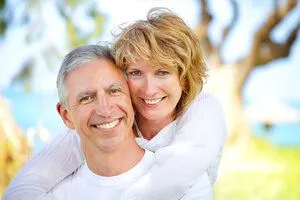 When you lose a tooth, the sturdiest and most permanent option for replacement is with dental implants. At Zenith Dental Arts in the Park Slope neighborhood of Brooklyn, New York, Lior Neuman, DDS, offers ceramic implant restoration to give you a full and natural-looking smile. If you've lost a tooth and want a permanently restored smile with an implant, call or schedule your consultation online today.


How Do Dental Implants Work?
Dental implants are designed to serve the same purpose as the root of a tooth. They are small titanium devices that resemble screws that are inserted into the bone tissue below the gumline. When the implant heals into the bone, which may take several months, an abutment and permanent crown are placed on the top. With a porcelain or ceramic crown, the implanted tooth is indistinguishable from your other teeth.

Why Are Dental Implants the Best Solution?
The main reason why dental implants are the ideal solution is that they are permanent. Once they're installed, they're no different than any of your other teeth in terms of function and appearance. They also help keep the bone tissue healthy and strong. When you get dentures or bridges, the bone tissue can degrade over time.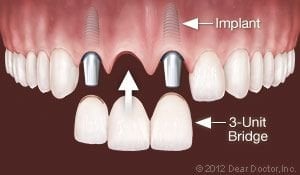 Replace Multiple Teeth — When you have more than one tooth missing, implants provide an ideal replacement mechanism. You don't even need one implant for every missing tooth. Instead, implant teeth can act as supports for fixed bridgework. For example, if you are missing three teeth in a row, we can place two implants, one on either side of the gap, and a crown in between that has no implant underneath. That way, you won't need to use any of your remaining natural teeth as bridge supports, which could weaken them and make them more susceptible to decay.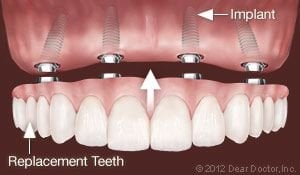 Replace All Teeth Permanently — Implants can support an entire arch of upper or lower replacement teeth that are fixed into the mouth and are never removed. Sometimes the new teeth can be supported by as few as 4 implants. It's comparable to the structure of a table, which only needs 4 legs to hold it up. In cases where jawbone density and volume have deteriorated, 5 or 6 implants might be needed to support a row of 10 to 12 teeth. Dental implant replacement teeth protect your jawbone, won't slip, and should last a lifetime.


How Does Implant Restoration Work?
To insert your dental implant, Dr. Neuman gives you a local anesthetic so you can't feel the procedure while it's happening.
First, if there is any part of the old tooth left over, Dr. Neuman removes it. He makes sure that the tissues in your gums surrounding the implant area are sturdy, then makes a small incision and drills a hole into your jawbone before placing the implant. Using an X-ray, he makes sure that the implant is sturdy and in the correct place.
Placing the implant takes less than an hour, but you'll need to return for a second appointment to have the new crown put into place after a waiting period while your implant fuses with your jawbone.
During your follow-up appointment, he makes sure that the tissue in your gums surrounding the implant is secure. If your gums begin to recede after your surgery, he may recommend a tissue graft.


What Are The Benefits of Dental Implants?
There are many benefits to choosing implant restoration over bridges and other options for teeth replacement. They include:
Ease of eating and speaking
Prevention of teeth drifting out of place
Permanence
Low maintenance
Improved appearance of your smile
Durability
Since implants are inserted into your jaw, they are nearly as strong and durable as your natural teeth. Dr. Neuman uses ceramic prosthetic teeth for implants, so they have a similar appearance in color and texture to the rest of your smile.


Does Implant Restoration Hurt?
At Zenith Dental Arts, Dr. Neuman uses local anesthetics to prevent you from feeling any pain. You may feel a bit sore for about a week after the treatment, so Dr. Neuman may prescribe pain-relieving medication to help you manage it.


Are you missing one or more teeth? Dental implants are a permanent solution to replace missing or damaged teeth. Call Zenith Dental Arts in Brooklyn, NY today at (917) 921-8666 for more information or to book an appointment!