Brooklyn, NY Invisalign Treatment

The thought of a mouthful of metal deters many people from pursuing straight teeth. At Zenith Dental Arts in the Park Slope neighborhood of Brooklyn, New York, Lior Neuman, DDS, uses Invisalign® to subtly adjust smiles to perfection. If you want straighter teeth without the complications of braces, call or schedule an appointment online with Dr. Neuman today.


What is Invisalign®?
Invisalign is a teeth-straightening treatment and an alternative to traditional braces. The system uses a series of custom clear teeth aligners to gradually move your teeth into a straight position. They're not noticeable to others while you're wearing them, which is why many people prefer them over traditional braces and other orthodontic treatments. Invisalign can correct many structural imperfections in your smile, including:
Slight overbite
Slight underbite
Overlapping teeth
Large gaps
Crowded teeth
Bites that don't close
Protruding teeth
At Zenith Dental Arts, Dr. Neuman specializes in mild cases of misaligned and crooked teeth. If your case is severe, he refers you to an orthodontist upstairs from the practice. With extreme cases of crooked teeth, he may recommend that you start treatment with traditional braces and complete the alignment with Invisalign.


How does Invisalign work?
Once you decide on Invisalign treatments, Dr. Neuman examines your smile during an initial consultation. After discussing your goals, he maps out a treatment plan to show the steps of the movement of your teeth.
At your first appointment, Dr. Neuman creates an impression of your mouth with a hardening material called alginate. Once the impression hardens, he uses it to create your first set of Invisalign aligners.
The aligners are made of a clear, comfortable material and trimmed to join with your gum line. You wear each aligner 20 to 22 hours per day for one to two weeks before progressing to the next one. After slowly moving into their new position over the course of 12 to 18 months, your teeth will be straight and gorgeous.


Am I a candidate for Invisalign?
Both teens and adults can benefit from Invisalign. As long as all of your adult teeth have grown in, you are eligible to begin the treatment. You must also be able to commit to wearing the aligners diligently, or the treatment will not work.
If your teeth are severely misaligned or out of position, Dr. Neuman may refer you to an orthodontist for treatments other than Invisalign.


Caring for Your Teeth During Invisalign Treatment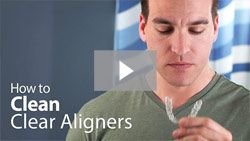 As mentioned above, one of the main advantages of the Invisalign system is that the trays can be removed for easy cleaning. So please don't neglect to do this! You'll need to brush your teeth after every meal or snack so that food and plaque do not get trapped in the aligners, which could promote tooth decay and gum disease. Your aligners, too, will have to be cleaned regularly; you can do this by brushing them and then rinsing them with lukewarm water.
Also, please keep in mind that while wearing clear aligners is very different from wearing braces, the importance of retaining your post-treatment results is exactly the same. You'll want to be sure to wear your retainer(s) exactly as prescribed after your treatment is completed to protect your investment in a beautiful new smile.
Want to straighten your smile without a mouth full of metal and rubber bands? Contact Zenith Dental Arts and schedule a consultation to see if Invisalign may be right for you. Call our Brooklyn, NY office today at (917) 921-8666 or click here to Request Appointment!