Brooklyn, NY Veneers
Short, misshapen, discolored, or otherwise imperfect teeth can make you hesitate to show off your smile. With veneers, your smile can look amazing without pricey implants or more complex procedures. At Zenith Dental Arts in the Park Slope neighborhood of Brooklyn, New York, Lior Neuman, DDS, creates custom veneers to keep your teeth looking natural and smile-worthy. To find out more about how veneers can improve your smile, call or schedule an appointment online at Zenith Dental Arts today.


What are veneers?
Veneers are thin shells that adhere to the front of your teeth to improve their appearance. The front six teeth in your mouth, called the "smile zone," is one of the first things that people notice about you. If they don't look good, or if you're simply uncomfortable with how they look, you may feel the need to cover them up or avoid smiling altogether. With veneers, you get to decide how your smile looks.


How can veneers improve my smile?
Veneers can correct nearly any imperfection with your teeth, except for a tooth that is completely missing. Veneers can:
Elongate short teeth
Cover stains and discoloration
Give your teeth a more appealing shape
Cover chips and cracks
Correct large spaces between teeth
At your consultation, you can discuss your goals with Dr. Neuman. Then, he'll help you choose the material for your veneers and custom create them to fit your needs.


Versatility of Porcelain Veneers
Veneers can be used to improve any of the following characteristics of your teeth: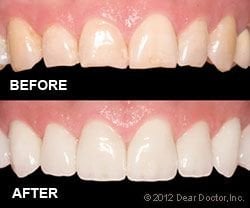 Color
— Teeth can become stained by the foods and drinks we like, from smoking, and even normal aging. Veneers are available in numerous shades, from the most natural to the brightest Hollywood white.

Size & Shape — Teeth can become worn down from grinding habits, or may not have the shape or size you want to begin with. For example, some people consider rounder teeth more feminine and squarer teeth more masculine. Veneers can be shaped and sized in whichever way is most flattering to your face.


Alignment & Spacing — Veneers can be used to close small gaps between teeth or make slight corrections in alignment while improving tooth color and shape.


What types of veneers can I get?
There are two main types of veneers: porcelain and composite resin. Each material has its own benefits, and Dr. Neuman helps you choose the one that's best for you.
Porcelain veneers
Porcelain veneers are thin, strong, and long-lasting. They look like your natural teeth and are resistant to stains.
Composite resin veneers
Composite resin veneers aren't as strong or stain-resistant as porcelain veneers, but they're cheaper and easier to apply. While you'll need some enamel removed in order for either type of veneer to stay on your tooth, composite resin veneers don't require as much enamel to be removed as porcelain veneers.


Am I a candidate for veneers?
When you're exploring your options, Dr. Neuman assesses your teeth to determine if veneers are right for you. You may be a candidate for veneers if you:
Are unhappy with how your smile looks
Don't clench or grind your teeth
Have healthy teeth
Have healthy gums
You're committed to regular dental visits and cleanings
To get the most out of your veneers, you'll need to break any habits that affect your teeth, like chewing your fingernails or eating ice. To maintain them, simply take care of your veneers as you would your regular teeth with daily brushing and flossing. If they ever get damaged, you can easily have them replaced.


Want a new smile with dental Veneers or would like to learn more? Then call our Brooklyn, NY office today at (917) 921-8666
For more information or to book an appointment!